Gemstone Show and Lots Of Goodies
Merry Meet :))) I finally had the opportunity to go to my first gemstone show. :)))) I have been waiting for this show to come for over a year now and was beyond excited to go. It was just amazing!!!! Next time I will plan to go two times, once with the children and once with a friend. :))) It was honestly a little much on my kids. They loved it for the first hour or so. However, a lot of the displays were hands off. Ok about 95% of them. That's really tough when you have a 5 year old that loves stones and holding them. We did have one wonderful booth that took the time to talk to my kids about fossils and different stones and their properties, and let them touch pretty much anything. :))))) I have a special story about that booth that I will share with you tomorrow. :))))))
Today though I wanted to share a couple goodies that I got, and show you a few pictures that I took in the show. :)))))))
This is the first piece I got and I am beyond excited. A lot of you probably know that the Moonstone is my absolute favorite. :))))))))) It's just an amazing stone for me. :)))) So when I found this ring I was really really happy. It's going on my first finger right next to my infinity ring. :))))
The first ring is kyanite, for those of you who might be wondering. :)))) I got that one when I was getting certified in tarot. The infinity ring is a few months old and was found with the help of my guides. :)))) For those who have been with me for awhile you may remember the story on that one. :)))))) Moonstone is the stone of the Moon, and carries her lunar energy. :))))) It is very soothing and helps to ease any stress and or anxiety. It also enhances intuition and aids lightworkers. :)))))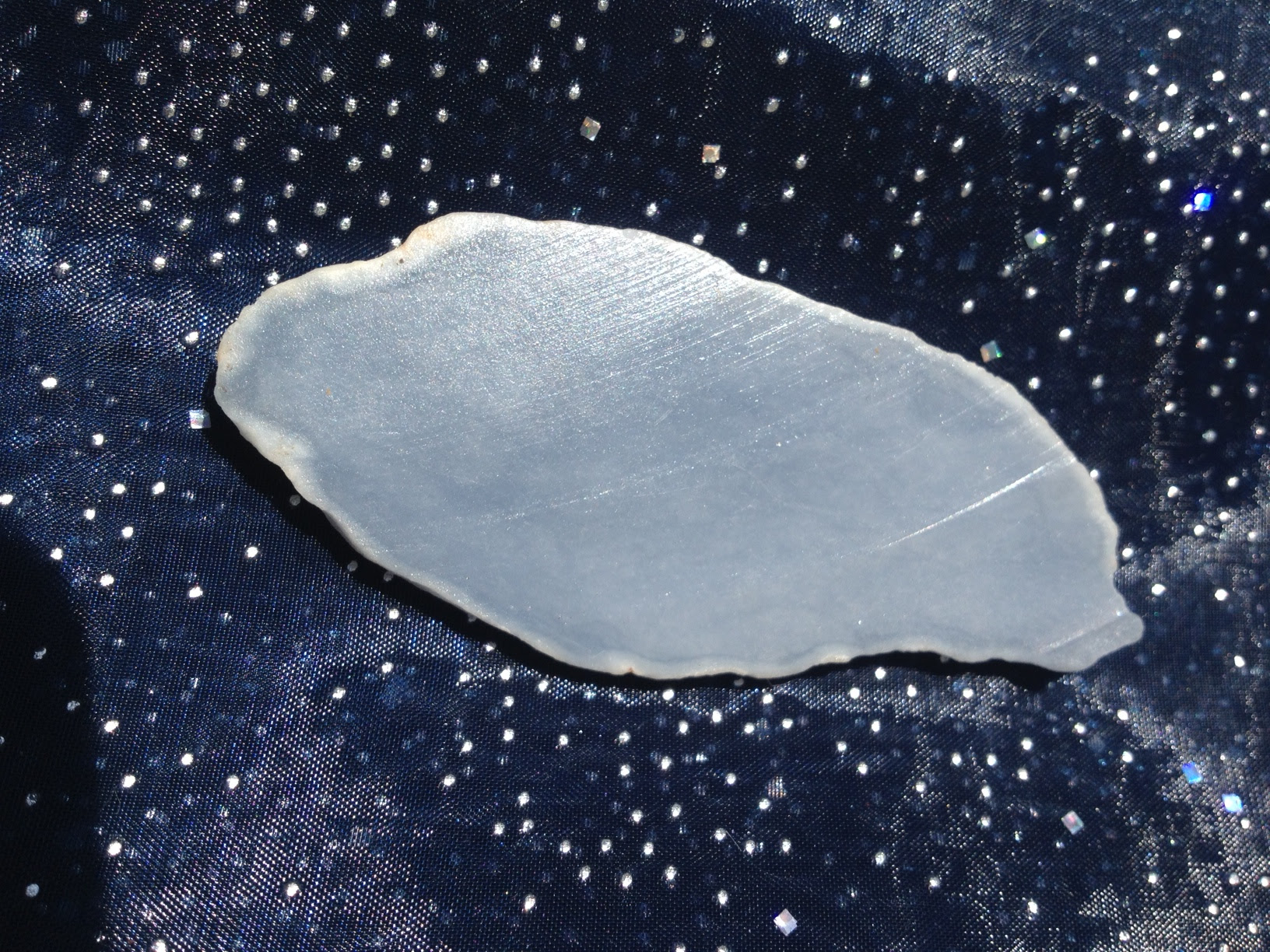 This next beauty is a piece of Angelite. :)))) Some of you may remember me talking about wanting to obtain a piece for myself as I didn't yet have one. This one was only a few dollars and was handcut by an amazing woman that I met there. You can see the milkiness of the outside of the stone around the edges. :))))))) Cole actually picked this stone out for me. :))))) I had to laugh when I asked him to pick a small stone for me and he immediately brought me over this stone. There's a lot of times where he just baffles me with how well he knows me. :)))) This is a stone of serenity and peace, it's extremely calming to hold. It helps facilitate contact with the angels. :)))
The one above is a little hard to see. It apparently is camera shy as this is like the 12th picture I've taken and it just doesn't do it justice at all. It's a Herkimer Diamond. I have a little tiny piece that I got a few years ago, I got this one for amazing price, it's like it was meant for me. Herkimer Diamonds originally were from the Herkimer mine in New York. Recently they have been found in other areas of the world which is helping them to become easier to obtain, both in availability and in the wallet. ;) :))))) This is a powerful little gemstone that amplifies the energy of other stones, helps one to stay grounded through the Earth Star Chakra, and draws light, a few of the many benefits. It's a great stone for lightworkers.
Tomorrow I will tell you what happened with Cole and how he managed to find a rare stone that was buried in the wrong bin. ;) It's a very interesting stone. :)))))))
I'll leave you with a few more pictures I took at the show. :)) I hope you enjoy!
Much Love and Many Blessings,
Jasmeine Moonsong
Put A Little Magick in Your Day!
Premium edition includes daily magickal correspondences, quotes, affirmations, tarot card, spell , and an article teaching you more about your path. :)))