A Look At My Altar
Merry Meet :)))))) I've been on a cleaning spree the last few weeks, it's a nesting instinct I get right before summer goes in full swing. One of the things I do during this time is take down my altar, clean everything on it, and change the cloth I have. As I was doing it this weekend, it occurred to me that many of you would probably like to see it, so I took you some pictures. :)))))))
The picture above shows my full altar. It's in my bedroom next to my bed on a bureau that I've had since I was little. I don't follow a traditional setup as you will notice. Parts of it are similar. However, it's a setup that has always felt right to me. It's more representative of my path and honoring my guides and those I work with. When I do rituals or spellwork that I feel I have the need for a traditional altar I will either modify this one, or set up a new one, typically outside when weather permits.
I have several cloths for my altar. They are all quiet similar, scarfs with either gold or silver moons and stars on them. :))) I have them in blue, white, yellow, and black. :)))) I typically use blue during the winter, yellow in the summer, and white and black as the mood fits me. As an aside, you'll see a painting of a wolf reflecting in the mirror hanging on the wall in the background lol Melody painted that. :))))) I took some closeups of it to show you various items that I thought might interest you.
In this first picture is one of the first pieces I got when I started my path formally, a statue of Isis. She is my matron Goddess and the first one I started working with. On her altar you will see some personal items that are important to me, a soapstone ring representative of my future, a small sand dollar that I found at my favorite beach, a small herkimer diamond, and a little statue of a fairy. :)))) To the left is a unicorn statue that I picked up a few years ago. I have adored unicorns since I was little. On the right you will see a candle that I got when I began my path. I used it in one of my first magickal workings. I'll give you a closeup of that one at the end. :)) In front of my Isis statue is a Selenite Wand, the wooden one is on the altar in my kitchen. In front of that is an obsidian point that I work with a lot made for me by my good friend from Enchanted Autumn. I leave it on my altar to charge when I'm not wearing it. You can see it better in the picture below. :)))) In the back and in the picture on the top you'll notice I have some pictures of me when I was little. Part of the reason for that is I've been doing a lot of working with your inner child and retaining innocence work. So they are there right now to help me with that and honor my past.
This tile is in the center of my altar. I got this very early on as well. :)))) In the center of it is a marble/gazing ball that my daughter and I found in our fae garden. I honestly don't know where it came from but I adore it. :))) My guess is that the fae like the garden we make for them. :))))) In the top are two hematite rings representing strength, and my future. To the left is a small crystal point. At the bottom is a triqueta keychain. On the right is a seashell that is charged in a spell I worked with Raven Grimassi and Stephanie Taylor.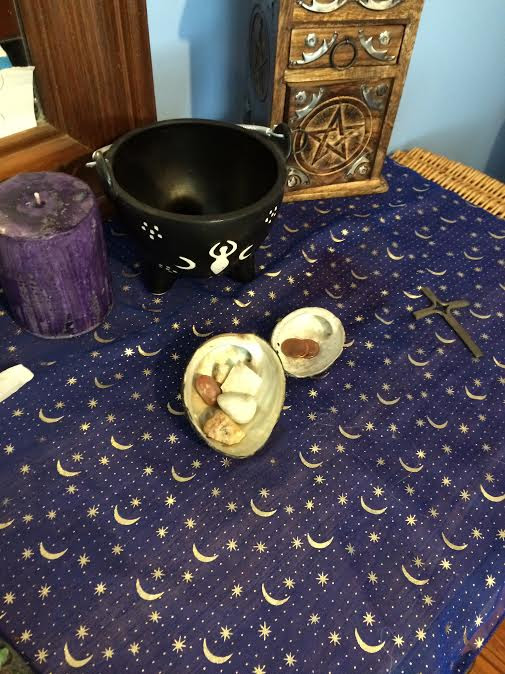 To the far left you can see my witchcraft cabinet. It has some runes in the top, and in the bottom is typically anything I need to store for spellwork. So for example New Moon spell things that I write go in there for safekeeping. :)))) The Abalone Shells are my offering dishes and they were gifted to me by a friend. They are from Carmel Beach in California. In the left one are some stones that I've found on walks that I felt were significant. In the right one are three pennies that my Grandfather left for me as a sign recently. :)))) The Celtic Cross was made for me by a friend and represents my Celtic connection. The purple candle was made for me by Autumn from Enchanted Autumn. Her candles are so beautiful!!! I never want to burn them! The Green Tree one one that you see in the picture below with the tree of life charm on it was also made by her. :)))) Oh and you can see my small cauldron that I use for incense and some spell work. :))))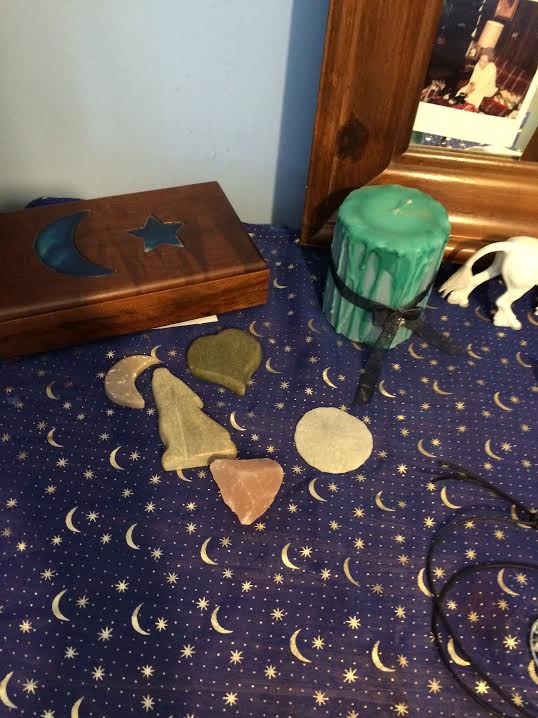 This is the Left side of my altar. The box with the Moon on it holds some of my gemstones. You can see the green tree of life candle a little closer. There is a piece of rose quartz that ehm appeared on it the other day? I'm guessing either my guides or Cole. I decided to put it back because it seems to belong there. Above that is a wolf, moon, and heart all carved in soapstone by an amazing friend of mine. :))))) The picture is of my Grandmother. :)))
Here is the close up of the candle as promised :)))))) This is an affirmation that I've been using for years now. :)))))) I have issues with candles that are too nice to burn! LOL :))))))) You will see the wolf Moon pendant that my friend sent me for Yule charging on my altar for wear that evening. In the bottom right of the mirror is a note my daughter wrote me telling me that she loves me. :)) I think that's everything! I hope you enjoyed!
Much Love and Many Blessings,
Jasmeine Moonsong
Put A Little Magick in Your Day!
Premium edition includes daily magickal correspondences, quotes, affirmations, tarot card, spell , and an article teaching you more about your path. :)))