Moonsong Daily Magick for January 30, 2016
Merry Meet :)))) How are you all this magickal Saturday? :)))))

Today I wanted to give you a special treat :))))

This is today's issue of Moonsong Daily Magick :))))) It will give you an idea of what it's like to be a member of Moonsong Daily Magick and start your day with a bit of magick each day. :))))) Moonsong Daily Magick goes out every day via email. :)))) Interested? Come join us :))) (it looks much prettier via email too!) :)))
http://www.wiccanmoonsong.com/Moonsong-Daily-Magick.html
Merry Meet and Good Morning :))) Blessings to you and yours for a magickal day today. Today is Saturday, January 30, 2016
Saturdays are ruled by Saturn. Saturn's seemingly infinite journey around the Sun connects us to a greater world beyond. Today is a day of wisdom and awareness. It's a wonderful day to work on spiritual awareness and connection with the divine. Take some time to meditate today and connect with the universal energy. If you are working with spells today, it's the day to work with spells for overcoming obstacles, neutralizing harmful energy, binding, and banishing. When working with stones today choose to wear turquoise, labradorite, or diamond for protection. Use amethyst in amulets, and lead in talismans.
Tonight's Moon is Waning, Third Quarter with 70% visibility. The Waning Moon is a time for study, meditation, and little magickal work except magick designed to banish harmful energies. The Waning Moon represents the Goddess in her Crone aspect. It's a time to celebrate the wisdom gained through life. The next important event for your magickal workings is the Imbolc on February 2.
We begin our day void of course as the Moon is making her way to Scorpio arriving at 10:51 this evening. While the Moon is making her journey she will be void of course or between signs. During this time we want to minimize doing anything important. It's a great time to rest, relax and take care of you. :)))
The Moon in Scorpio increases awareness of psychic power. It precipitates psychic crises and ends connections thoroughly. People can tend to brood and become secretive.
The color of the day is Gray and the incense of the day is Ivy. Have an amazingly magickal day! :))))**all times in EST**
Much Love and Many Blessings,
Jasmeine Moonsong
but always live in the present
for that is where the magick is."
Wiccan Daily Affirmation
Miracles happen every day in my life.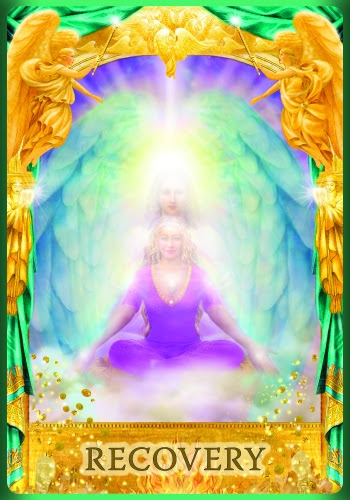 Tarot/Oracle Card of the Day
This is a period of recovery and healing for you. The challenging emotions that you've been dealing with will fade away with time. Although it may be difficult to see now, there is a joyful future awaiting you. But for now, take all the time you need to regain your strength.
This card can also mean that your recovery is nearly finished or already complete. Send words of gratitude to Heaven and begin planning for the next exciting phase of your life!
Angel Answer Oracle Cards
The herb rosemary can be used to conjure prophetic dreams.
You'll need two sprigs of rosemary and some spring water—bottled is fine.
Before you go to bed, relax and inhale the scent of the rosemary.
Sprinkle each sprig with three drops of the water.
Place the sprigs near your pillow.
Traditionally, a sprig was placed in each shoe or slipper you wore that day.
Without thinking of anything or anyone specific, drift off to sleep. Clear your mind of all thoughts or worries. Let the dreams come.
If you happen to dream of a romantic partner, it's said he or she will speak to you during the dream. Record anything you see or hear in your dream journal. See if it comes to pass.
Wiccan Guide
Proctor's Ledge in Salem confirmed.
Warning: For those that are sensitive this article contains information about what happened at the salem executions that you may find disturbing. Please be sure to ground and shield. I am presenting it because of it's important place in history.
Merry Meet :))) Probably anyone who is affiliated with witchcraft or Wicca in any way has heard of the Salem witch trials. Not surprisingly, I found fascination with them early on in my years and have read pretty much everything I can get my hands on regarding them ever since. Living in Massachusetts I've also been out to Salem many times. It's actually a really nice colonial seaside town, with the added bonus of lots of Witchy shops. :))) Oh! and Laurie Cabot, probably the official witch of Salem, but I'll tell you more about her on a different day. :))))
So the other morning I was reading the paper and a headline jumped out at me:
Researchers Confirm Site of Hangings for Salem Witch Trials
Holy smokes... I immediately started to read the article so excited I couldn't absorb the information fast enough.
They have finally confirmed the place where the accused were hung. For the longest time there was speculation that it was on Gallows Hill. It never was conclusive though and there's always been speculation that it was somewhere else. One of the primary reasons is it was said that the accused had to haul carts up the hill and Gallows Hill is extremely steep.
Apparently Sidney Perley said the site of their execution was Proctor's Ledge nearly a century ago. The Gallow's Hill Project was developed to ensure that the history that was being presented on the people who were accused and their lives taken was correct. It's been a big push by the state of Massachusetts to honor and apologize for an event in our state's history that the state is not proud of.
The research team used aerial photography and ground penetrating radar to find the place where they were hung. It is believe that they were not hung in gallows but instead by a rope run over a tree branch, which interestingly enough was what I always saw when I went out there. There's an article I wrote on Bridget Bishop awhile ago and I used a picture that showed that method as it felt historically correct to me which I felt was important. You can read that article here:
http://wiccanmoonsong.blogspot.com/2012/01/bridget-bishop.html
They are asking the public not to visit the actual site as it is located in a residential area but if you wish to pay your respects to do so instead at the memorial in town.
I have a couple of articles for you that you may like :)))
This is actually a blog article that was done really well. A lot of the images that she has to back things up are incredible and I do believe if you're interested in the history of Salem you will enjoy it. Where is the real Gallow's Hill? If you love history she has a lot of really excellent articles. If you are from Massachusetts it's a gold mine of knowledge about our state. :)))
Here is a copy of the news article out of the NY Times: Researchers Confirm Hanging Site
Here is a picture of Gallow's Hill the site that was previously looked at as the possible site of their execution.
Have a magickal day!
Much Love and Many Blessings,
Jasmeine Moonsong
"Walk your path with love in your heart, and light surrounding you,
and you will never wander off into the darkness."