Merry Meet and Good Morning! Blessings to you and yours for a magickal day today. Today is Wednesday, June 1, 2016.
Wednesdays are ruled by Mercury, the planet that's magickal properties include intellect, versatility, travel and divination. Have any studying you need to do or need a day to travel, this would be the best day. Being an intellectual day pay attention to your thought patterns today. Today is a great day to work with your conscious mind and make things happen. If you are working with spells today, choose spells for communication, education, and self-expression. It's also a good day to consult oracles, tarot cards or runes, plan any magickal work, and write. If you are working with stones today choose to wear amethyst, star rubies, or lodestones for protection. Choose sapphire in amulets.
Tonight's
Moon is Waning, Fourth Quarter with 23% visibility. The Waning Moon is a time for study, meditation, and little magickal work except magick designed to banish harmful energies. The Waning Moon represents the Goddess in her Crone aspect. It's a time to celebrate the wisdom gained through life. The next important event for your magickal workings is the New Moon on
June 4, 2016
.
We begin our day with the Moon in Aries. The Moon in Aries is good for starting things but lacks staying power. Thing occur rapidly, but quickly pass. People tend to be argumentative and assertive. At
11:43
this morning the Moon begins her journey to Taurus arriving at
10:48
this evening. While the Moon is making her journey she will be void of course or between signs. During this time we want to minimize doing anything important. It's a great time to rest, relax and take care of you. With the Moon in Taurus things begun now last the longest, tend to increase in value, and become hard to alter. It brings out an appreciation for beauty and sensory experiences. The color of the day is Topaz and the incense of the day is Lilac. Have an amazingly magickal day! :))))
**all times in EST**

Much Love and Many Blessings,

Jasmeine Moonsong
"The journey is always yours to take
make it what you wish."

- Jasmeine Moonsong



I am a Priestess and work with the elements and energy available to me.
original artwork by: Anna Spies
Self-Esteem

"I possess gifts of the soul that benefit me and others"

It is easy to perceive others as being better than you. This is a trap of the ego. There is no one greater or lesser than you; there are only those who have learned how to reveal their gifts to a greater or lesser degree. Everyone is born with unique abilities of the soul, and just like snowflakes, no two are ever alike. You have a unique perspective to share with the world and have come back this time to put your stamp on it.

Perhaps you might not be aware or even "in tune' with your incredible and gifted self. Why not try to make a list of ten aspects of yourself or abilities you possess that you love and hold in high regard? It is not always easy to write about yourself, but sometimes you need to be reminded just how special you are. Remember that you did not come down to this schoolroom by accident. You have meaning and a reason for being. You are a treasure chest of incredible gifts and insights. Now is the time to celebrate you!
Sever the Ties

I know I've had a few of you lately who needed some help cutting ties to people from your past. This is another spell that you can use. :)))

What You Need
- two candles
- piece of string
- scissors

The first candle represents you and the second represents the person that you are trying to break away from. So choose your candles accordingly. So for instance if my favorite color is blue I would probably choose a blue one to represent myself. You can carve the candles if you want to as well.

Tie the piece of string between the candles.

Let the Goddess know whom the candles represent as you light each candle.

Envision using the scissors to cut the tie that bonds you. When you are ready, cut the string.

Allow both candles to burn all the way down. If yours goes out first then you must come back the next day and repeat the spell. If the person you are cutting the ties with goes out first then the spell will be successful and the tie has been cut.

Dispose of the string and the wax. You must not contact the person for at least a week or the spell will be broken.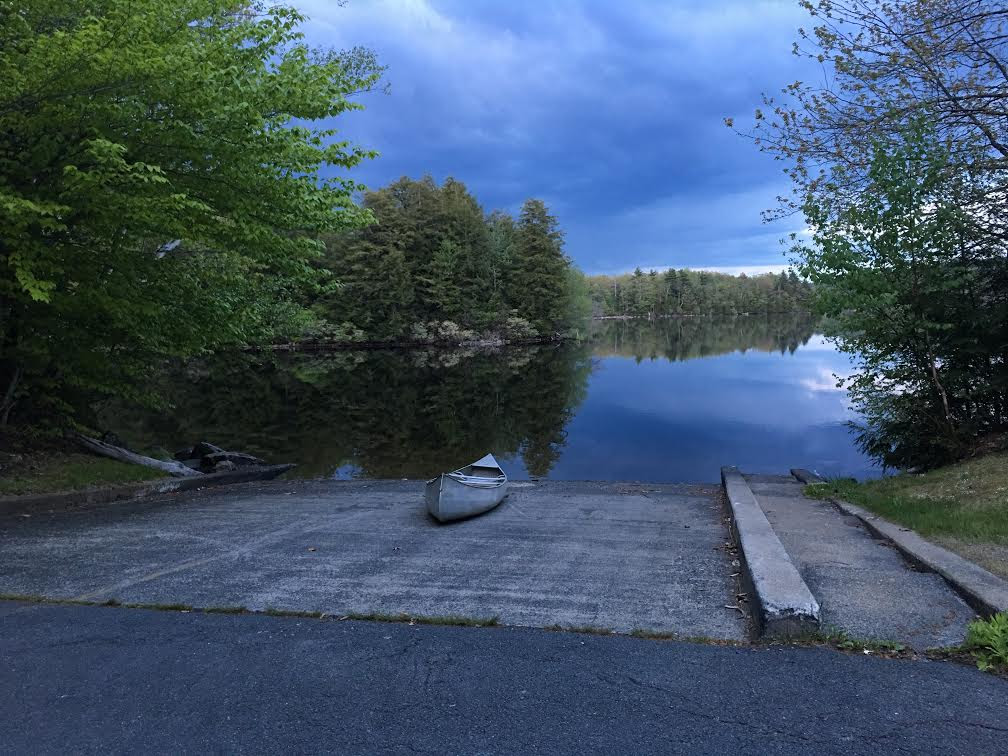 The Canoe
Merry Meet :)))))) I can't believe it's June 1st already! :))) I always feel like I say that time is flying by and it truly is for me. My little ones will be out of school in a couple of weeks.

The picture above I have been wanting to share with you for a couple of days now. :))))) Isn't it gorgeous! :))))) Last year my father gave us a canoe that he had for years since he and my Mom didn't use it anymore. His timing was actually perfect as Earl and I were having a staycation last year as we were saving money to try to put a fence in the yard to give us the privacy that we desired. The canoe absolutely made our vacation and I can't tell you how many weekends and weeknights it's made since then.

This launch that you are seeing is one of my favorite places to go during the summer. It's in a little town called Otis that's tucked up in the Berkshires. It was our first voyage out this year! :)))))

We got a bit of a late start but the way things timed out what incredible. I wish I had my camera on my when we went but as it was our first trip I didn't want to take a chance. The highlight of the trip though was this beautiful blue heron. Earl and I and the kids floated watching this heron for at least 20 minutes. She had swooped right in front of us and landed on the shore. We watched her walking carefully along the shore trying to catch her evening dinner.

We were awarded for our patience when she not only caught a fish but cleaned it up and then swallowed it whole! I had no idea!! The children were completely entertained and I just loved the fact that they were having that type of an experience.

I love being out in the canoe because you can see things that you wouldn't normally be able to and it is soooo relaxing! :)))) So you would think boats are expensive but you can get canoes for pretty cheap and you can get roof racks that go on the top of your car. :))) That's what we did! :))) Oh! Earl added a small trolling motor to it that we found in the want ads for $20.00 as well lol :)))))) So we can drive around a bit as well :))))) There's always a way ;) :))))

I hope you have an amazing day!

Much Love and Many Blessings,

Jasmeine Moonsong
"Walk your path with love in your heart, and light surrounding you,
and you will never wander off into the darkness."

- Jasmeine Moonsong