Merry Meet :)) I just got back this past Sunday from a weeks vacation. I honestly wasn't sure what I wanted to do during this vacation. I've been incredibly tired lately because of everything going on and honestly wasn't sure I wanted to go anywhere? That's the first time I think that's ever happened. The wonderful lady who use to live next door to me said she would watch all of our fur babies and that made me feel a lot more at ease. I was especially worried about Loki as he's so little. He was properly spoiled all week along with the others.
Relaxed knowing they were all set, we set out looking for a destination. I was looking at putting us near water but I didn't feel like going to the ocean? I felt called more to a lake and I started perusing Google maps to the North and the west. I always go East because the ocean is there or North to the bigger mountains. As I was going up the map I hit Lake Ontario and realized that we are only a bit over 4 hours from it. Somehow, living here all my life, I missed the fact that I was only 4 hours from the Great Lakes. That was it! I was all excited and now very happy to have someone taking care of all my babies so that I could go. My little ones were with their Dad for the week so it was a full week with just Earl and I which was really nice and part of my reasoning for something quiet.
I settled on a hotel in upstate New York in Fort Drum. It wasn't very expensive, the reviews were good and it looked really convenient for everything. I booked us 5 nights and we were off!
I'll be honest, Monday went a bit rough lol However I was so excited to just be out I really didn't care. We had drove about an hour and a half and realized that I forgot to leave the money for the wonderful lady watching our pets. I was in an area without reception as most of the drive was, and we decided to just turn around and go back. So we got there much later than originally expected. We had nothing planned though and spent the day on this beautiful drive so all was definitely not lost!
I made it a point to not research the area before we went. I just wanted to go with the flow and see where it took me. We started Monday with a hike to a conservatory. When we got there we were advised that the area has been incredibly flooded, the waters are really high and so the beaches in that particular area were under water. lol
It was around a mile to where we were hiking. The majority of it was in these huge fields, but there was this one section that you can see here where the trees made this gorgeous tunnel through the woods.
I was surrounded by these huge fields just packed with gorgeous flowers! They went as far as I could see in some places which was really neat.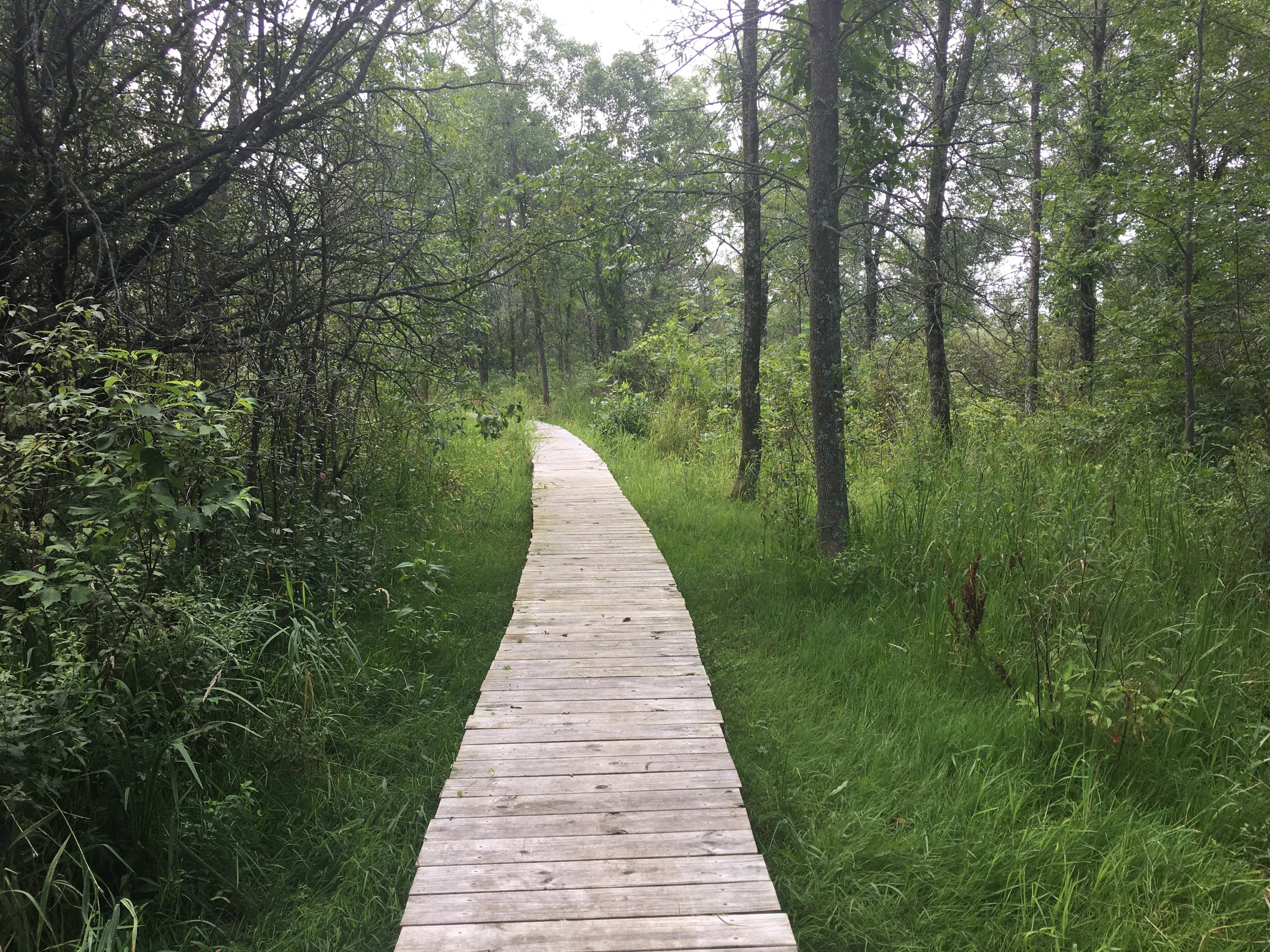 There were a couple of sections that were like this with a boardwalk that made it much easier to walk. There were tons of frogs! I don't think I've ever seen so many. I was looking down most of the time to make sure I didn't step on any as with every step there were two or three that jumped. It was really unreal. :)))) I couldn't help but remember that frogs show up at times of transformation in your life and I've definitely had that energy surrounding me as I've been working towards the eclipse that is actually going on as I'm writing this to you! :))
Welcome to Lake Ontario! :))) This was the first glimpse I had of Lake Ontario. It's huge! Honestly it looked a lot like the oceans in a lot of places here in New England to me. I found out later that the winds were pretty high on that first day. :))
In the previous picture you could see how flooded it is. There is usually a beach that connects where I am standing in this picture to the other side. Almost all of the beach was under water. This place must be gorgeous when it isn't this flooded.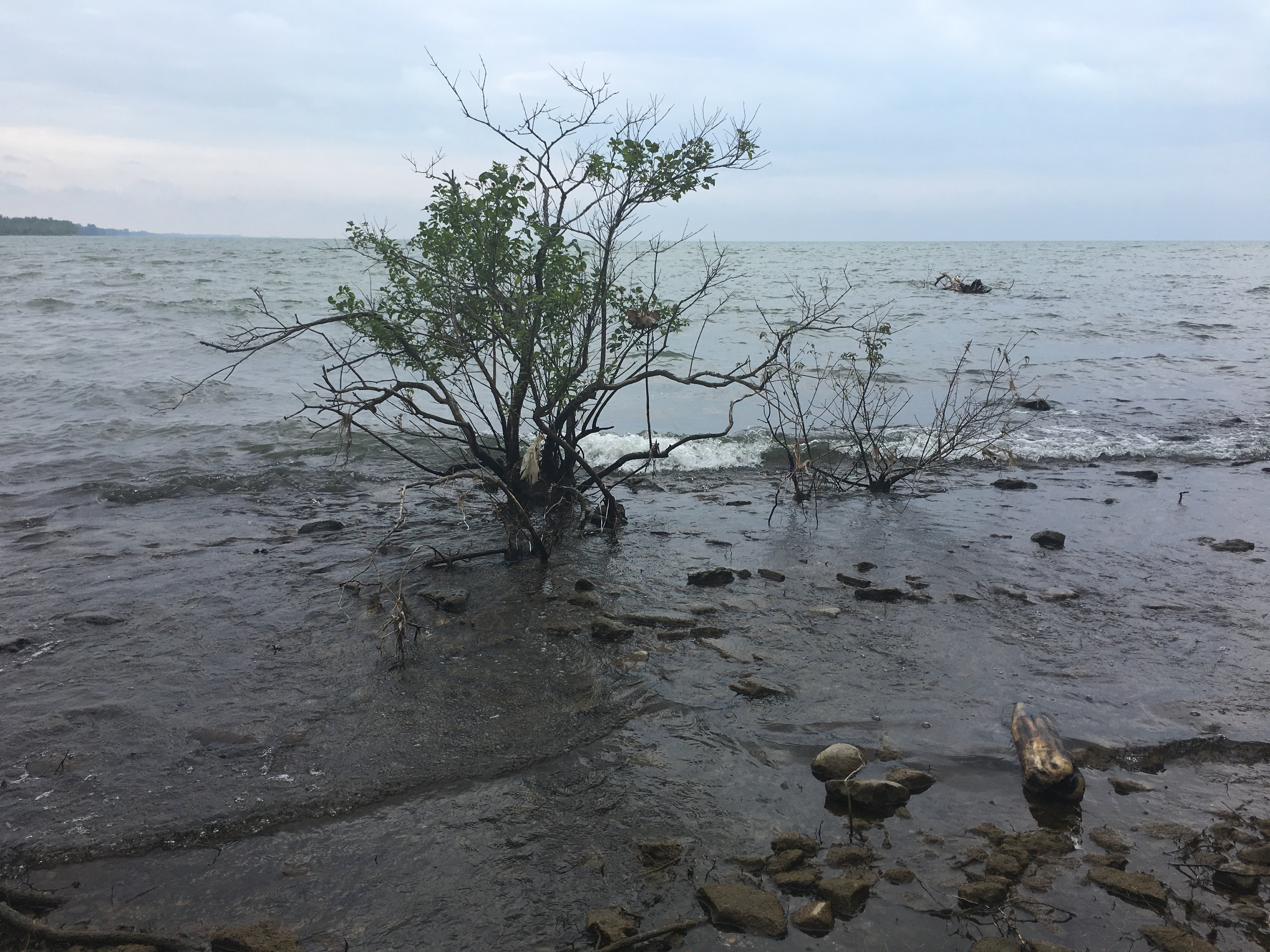 Here's another picture of the shoreline. You can see the bushes that are currently in the lake :)) It was so gorgeous there! It was a decent hike and honestly one that people hadn't been making much because the shoreline that was normally there was inaccessible. I thought it was gorgeous just as it was and I honestly loved it more because I didn't see a single person on the way there or on the way back. Just the grass that was bent down from those who had walked that path before me.
After our morning walk we went for a drive and discovered this beautiful area called the Thousand Islands and Alexandria Bay. Yes, that's where Thousand Island dressing is made. I will tell you more about that area, the castles I toured and my favorite place on vacation tomorrow!
Have a magickal day!
Much Love and Many Blessings,
Jasmeine Moonsong
P.S. The picture below is what the reservation I was on looks like when it isn't flooded. You can actually see the remnants of that fence in my picture.